Medilift Rail Ambulance from Ranchi – A Reliable and Low Cost Train Ambulance Services in Ranchi
There are more than 1o patients were still being transferring from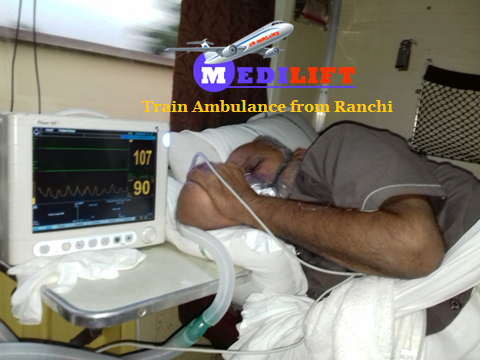 Ranchi to Delhi, Chennai and Vellore every day. To transfer a medical case or highly critical patient from one city to another city is really a tough task but Medilift air and train ambulance service provider has been make this task very easy and common. This leading Air and Train Ambulance Service provider has been started Rail Ambulance Services from Ranchi to move patient easily and safely from Ranchi.
Demand of Train Ambulance from Ranchi and Bihar even in all over India is increasing every second day due to huge demand of this less expensive medical transport service. But Medilift Train Ambulance from Ranchi to Delhi is still available at low cost. You will get all kinds of medical facilities and best services in Trail Ambulance from Ranchi by Medilift that will make you easy to transfer critical patient in a hassle free way.
Medilift Train Ambulance from Ranchi is less expensive but its facilities and services are not limited it provides unlimited and beyond your expectation without charging huge money. Advanced medical equipment's to I.C.U facilities along with experienced medical team and specialized doctor will be available in Medilfit Train Ambulance Services. So stop thinking about Train Ambulance from Ranchi Cost starts from 50000/- with medical team because our services will be always less expensive, best, reliable and affordable than any other service provider of India. so must contact with us if you ever need for Train Ambulance from Ranchi to Mumbai, Delhi, Vellore  or any city where you want to transfer your patient.
Save
Save