Bhopal is an another city of India and state of Madhya Pradesh, however this city is also growing and developing very fast but as like another cities of India there is a huge lack of advanced medical facility in Bhopal. This is the only reason found behind transferring large number of emergency patient every from Bhopal to New Delhi, Mumbai, Vellore and Chennai for better treatment and major surgeries.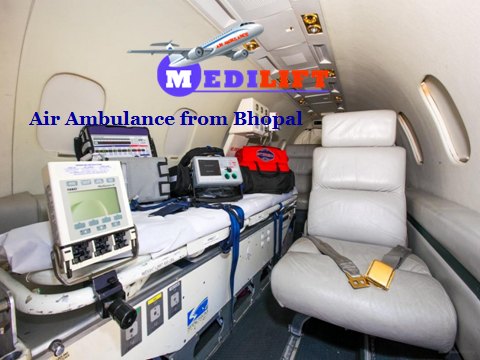 Emergency and I.C.U patient need intensive care and advanced medical facilities throughout journey in short lack of medical equipment's and little mistake may prove risky for patient. In such case whenever people need to shift their loved in emergency they seek for best and advanced Air Ambulance from Bhopal as we all know that no medical transport services could be faster than Air Ambulance. Unfortunately cost of Air Ambulance Services from Bhopal is very high and this life flight is not affordable for everyone but thanks to MEDILIFT that provides best and hi-tech air craft ambulance services in low cost.
Benefit of Air Ambulance from Bhopal by Medilift
So don't avoid Air Ambulance Services in Bhopal by Medilift as it is available to help you by providing best services at economical rate. You will get all kinds of advanced medical facilities along with full ICU system that will make you easy and enable to transfer any critical case in a hassle free way. While other hand Medilift also provides specialized doctor and experienced medical team with patient that check and control patient condition throughout journey. Medilift is specialized in patient transportation filed, so it easily and safely transfer patient with proper care within time. Thus must avail Medilift bed to bed transfer facility which is available at economical rate, it means there is no need to worry about services, medical facilities and cost of Air Ambulance from Bhopal to Mumbai, Air Ambulance Bhopal to Delhi and for other cities. Medilift affordable emergency ambulance services will be always available to help you in 24X7 days.
Save
Save