Medilift Emergency Air Ambulance Services in Kolkata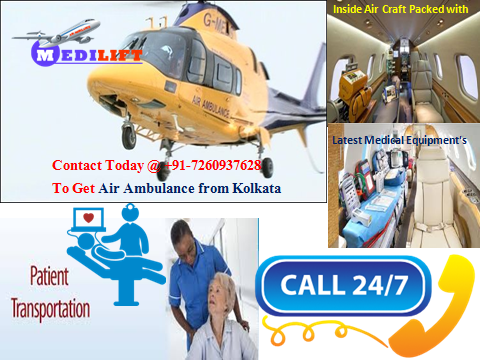 Kolkata is the capital city of West Bengal. It is the hub of Northeast. As such the city is thickly populated. Medilift air ambulance service provider in Kolkata has opened its center in Kolkata with a single aim of helping patient at the time of medical emergency. Thus Medilift has kept all facilities in their air ambulance and provides all of its service at a very low cost. The people of Kolkata are very cost sensitive. Keeping this in mind they have designed all their service and thus every people of Kolkata like their service. Not only air ambulance service, Medilift also has train ambulance service, ground ambulance service and medical escort service.
The Fast and Dependable Air Ambulance in Kolkata
Whenever you feel any medical emergency and you think that your patient should be transferred to any other better medical center outside Kolkata or even the country, you just call at our customer care. Our representative will take every detail of your patient and advice you to choose the available options that suit your patient. If your patient condition is stable enough, you can use the Medilift fast and dependable train ambulances in Kolkata city.
It is not always required to choose air ambulance for best result, sometimes your patient may need to take train ambulance also. In such case also our representative will guide you to avail the best option. We never misguide people for earning money and we do not have any hidden cost involved. We make everything transparent at the time of booking the service. Thus everybody likes our Medilift Air and Train ambulance service and we 100% customer satisfaction record. Avail Medilift charter private air ambulance service from Kolkata to Chennai, Air ambulance Kolkata to Delhi, air ambulance Kolkata to Bangalore, Mumbai, Patna, Siliguri, Guwahati, Jamshedpur, Ranchi with medical team. Peoples now days in Patna search air ambulance service in kolkata, charter air ambulance kolkata to Delhi, air ambulance from kolkata, air ambulance in kolkata, kolkata to Delhi air ambulance fare for patient transfer service. So guys call shift your patient with MEDILIFT air ambulance and train ambulance facilities.