Medilift Air Ambulance Services is Now Available in Patna
Patna is the capital city of Bihar. As such the city is the business capital of the state and every year a number of people come to the city for livelihood. Medilift air ambulance service has also set up its centre in Patna. It has kept its service open for all section of people of Patna. Thus we have kept our air ambulance service cost low so that the middle-class people also can avail our reliable facilities. Apart from air ambulance service we also have train ambulance services that are connected to all parts of India. In some cases train ambulance service also becomes very essential. We also have ground ambulance service that can transfer your patient to a desired location that is at a maximum distance of 500 km.
Medilift provides unmatched Air Ambulance from Patna with hi-tech medical facility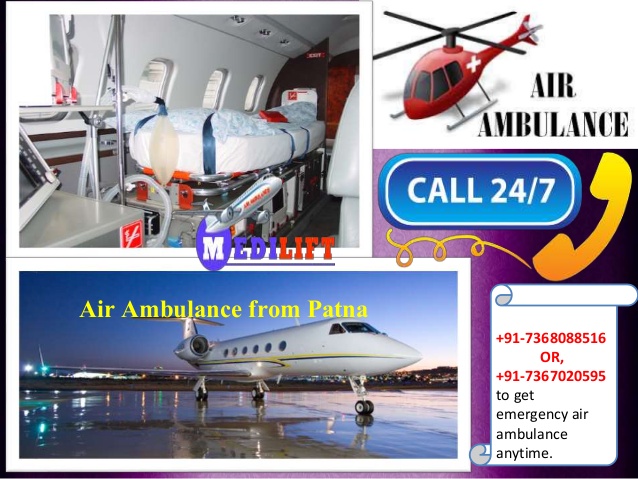 Medilift Air and Train Ambulance Services is the pioneer in the patient transportation field, our both charter and commercial Air Ambulance from Patna is considered as one stop safe, best and reliable solution for transporting an emergency and an I.C.U patient from one city to another city. We provide best and low-cost Air Ambulance in Patna as well as in more than 100 cities across India, our services, medical facilities, and the supportive team makes very easy and enable to transport the patient in a hassle free way. Charter Air Ambulance Cost Starts from 3 Lakhs from Patna.
Let's take a short glance of our services and medical facilities
»We transfer patient with specialized medical team and doctor
»We are always ready to pick and drop patient from any remote area
»We provide well medically equipped ground ambulance in the same package
»Our both charter and commercial Air Ambulances are packed with I.C.Y facilities
»Commercial stretchers to a wheelchair and medical escort team are also included in our facilities and serve as per patient need and requirement.
In short, you will not get such hi-tech and an advance Air Ambulance Service in Patna from any other service provider in such affordable rate. So feel free to get in touch anytime to avail our services anywhere in India in order to safely shift the patient from Patna to Delhi, Mumbai, Bangalore, Chennai or beyond India.
A big Life Saver this day and time – Low-Cost Air Ambulance Services from Patna by MEDILIFT
In the field of providing Emergency Air Ambulance Services time and quality services is an important factor, because people pay huge money for this single service, unfortunately, this service is still not affordable for everyone. In present scenario there are the number of air ambulance service providers are available in Patna but still, people first Contact with US (MEDILIFT) in order to get reliable services at low cost.
Do you ever think why we provide such outstanding air ambulance services in economical rate? If you are really thinking so then you need to know that out motive is to help people and save patient life by saving time by providing best and medically equipped Charter Air Craft from Patna to Delhi as well as for other cities such as air ambulance services from Patna to Chennai, Vellore, Lucknow, Pune, Mumbai etc. MEDILIFT is specialized in the patient transfer, we transfer patient with I.C.U specialist doctor, well experienced medical team and provides each and every hi-tech medical equipment's which is essential for any I.C.U or highly severe patient throughout journey. Peoples now days in Patna search air ambulance service in Patna, charter air ambulance Patna to Delhi, air ambulance from Patna, air ambulance in Patna, Patna to Delhi air ambulance fare for patient transfer service. So guys call shift your patient with MEDILIFT air ambulance and train ambulance facilities.
If you want to transfer your patient from Patna to another cities for best medical treatment then You may go with Air Ambulance Patna to Delhi, Air ambulance Patna to Chennai, Air Ambulance Patna to Kolkata, Air Ambulance Patna to Mumbai, Air Ambulance Patna to Lucknow, Air Ambulance Patna to Bangalore.
Save