Top-Quality Air & Train Ambulance Services in Gaya
Gaya is the city of historical and mythological importance at Bihar, India. It is the second largest city and tourist place in Bihar. It is because of Bodh Gaya, Gautam Buddha had enlightenment here. The nearest airport from Gaya is Gaya Airport.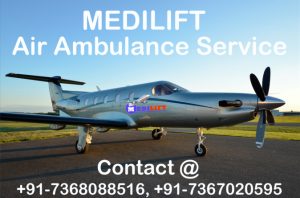 Nowadays, There are a lot of Service providers in India but among them, Medilift is one the best and foremost air and train ambulance service provider which has the latest and advanced ICU equipment with skilled and expert MD doctors panel and the best group of experienced Paramedical technicians. It provides its patients the best quality services and totally the very advanced ICU equipment. It has neither high cost nor extra charges for its patients except the genuine cost and charge. It is ready and curious for its patients 24 hours as per possible. The booking of the call is from Gaya to other cities is both online and offline available for the needy.
Get Hi-Tech Air Ambulance from Gaya at an Economical Rate
Medilift provides an affordable Air Ambulance Service in Gaya to help needy people who unable to afford hi-tech and advanced Air Ambulance Services. Medilift not only provides less expensive and hi-tech air ambulance services but also it provides complete safe and one-stop solution within in the same package. The Medilift team performs complete bed to bed transfer facility, so if you ever need Air Ambulance from Gaya to Delhi, Air Ambulance from Gaya to Vellore then must contact once to avail our services. Cost of Air Ambulance from Gaya to Delhi is very low can this service will be always available at reasonable cost. So never waste your time if you ever need to shift your patient from Gaya to anywhere in India.  Medilift an emergency Air Ambulance Services in Gaya will be always ready to help you anytime.
Save