Air Ambulance Services in Jamshedpur by Medilift – Best Medical Transport in Tata Nagar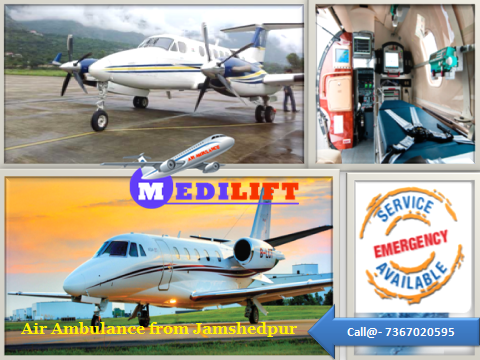 Jamshedpur is one of the significant cities Jharkhand, which is the third largest city of eastern India where the first planned of Industrial was set up. It is under prediction that it is 84 largest growing cities in all over world. It is home of private company's steel and iron. There is a tiny Sonari Airport and Tata Nagar Railway Station in the city. Medilift, as it has been famous for its Charted Aircraft and Train Ambulance Services in this Jamshedpur city to transfer patients to other cities putting the excellent medical team members and full ICU set up equipment's. It is ready to provide its services to the very serious patients after demanding. The process of booking of its Charted Aircraft or Train Ambulance service is very easy by dialing up a call. It has the lowest cost and reliable services to the patients by Charted Aircraft and Train Ambulances.
Medilift Air Ambulance from Jamshedpur: To Save Patient Life by Saving Time and Money
Medilift provides an emergency Air Ambulance Services in Jamshedpur to safely transport a patient from Jamshedpur to Delhi, Chennai, Vellore, and Mumbai and anywhere in India with proper medical facility and services. We transfer patient with specialized medical team and doctor that properly analyze and control patient every single minute condition throughout the whole journey. While another hand we perform complete bed to bed transfer facility within time and without charging huge money, our services are always available in emergency and always ready to take off anytime in order to shift patient anywhere in India without any hassle.
Air Ambulance Service in Jamshedpur by Medilift has been helped a large number of people in their critical days by simply providing quick services at an economical rate. our both charter and commercial Air Ambulance from Jamshedpur is fully medically equipped with latest machines, hi-tech and equipment and an I.C.U set-ups such advanced medical facilities makes very easy to monitor and control patient condition while transporting. So don't waste your hard earned money in booking an emergency Air Ambulance from Jamshedpur and contact with us anytime in order to get and avail India's most trusted and an affordable Air Ambulance Services from Jamshedpur.