Medilift Charter Private Air Ambulance Services in Chennai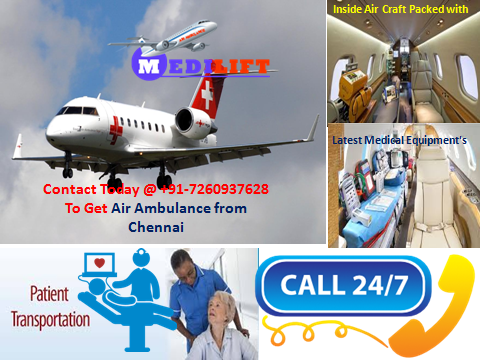 Medilift is a world class air and train ambulance service provider. It is a Delhi based company and it has been providing an outstanding service all over India. It is pioneer in transferring patients from one health care center to another for the better treatment of the serious and critical patient. Medilift has a branch in Chennai also. In Chennai, there are a lot of air ambulance service providers but Medilift is the No.1 air ambulance service provider in the city Chennai. No one could ever beat the record of Medilift in Chennai since its inception. It is a low cost air ambulance service provider that has all world class facilities. Its doctors are highly qualified and at least 5 years experienced.
Low cost Medical Emergency Air Ambulances in Chennai
We at Medilift facilitate low-cost train ambulances in Chennai for the people. The nurses and the paramedical staffs are well trained. We behave with the patient not as a mere customer but as if our acquaintance. You can ask any questions or queries to our representatives and we will answer all your questions nicely and politely. You can now book our air ambulance services from Chennai to Delhi itself. It can be booked both online or offline. Our services are open for 24 x 7. Whenever you have any medical emergency, you can call our representative at our office number and we will take care of everything required. We will make you transparent about all the process and costs involved. We do not have any hidden cost and so you do not need to worry about anything. Avail also air ambulance from Chennai to Delhi, Kolkata, Mumbai and among all the cities in India.
Save
Save