Air & Train Ambulance Services in Varanasi
Varanasi is also known as Benares, Banaras or Kashi and located on the bank of the Ganges River in Uttar Pradesh, North India. It the holiest city and a lot of historical and worship temples as well as the culture central of North India. There are lots of famous things here for the visitors.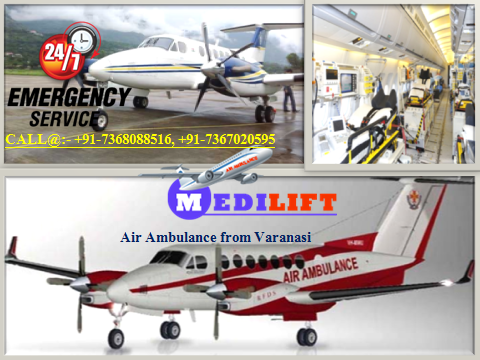 The service provider name – "Medilift", is an emerging and advanced Pvt. Ltd Company which is providing its services to them have no option to get their treatment outside from Varanasi. Medilift is service brand for the city. There are many patients, who have got its advantage by air ambulance like Charted Aircraft and Train Ambulance Services like ICU Package having all the ideas of ICU equipment. The most patients are getting its services from here to Delhi, Vellore and other cities with its experienced MD doctors, a long timing working paramedical technician. It has the lowest cost and neither extra charges from its clients. Mainly, It is standing 24 hours and placing its service after the booking. Its services is fast, rapid, quality reliable and cost credible for everyone. Our air ambulance from Varanasi to Delhi, Chennai, Kolkata, Mumbai, Bangalore Jabalpur, Hyderabad, Bhavnagar, Bhubaneshwar, Bellary, Belgaum, Aurangabad, Amritsar, Ambala, Aligarh, Ranchi, Raipur, Raigarh, Jodhpur, Guwahati, Dibrugarh and more city in India.
Key Factor of Medilift Air and Train Ambulance Services from Varanasi
Bed to Bed services
24 Hour Medical emergency services
Best advice where to shift the patient
no hidden and extra cost
Save
Save