Hitech and Budget Friendly Air Ambulance Services from Ranchi, Jharkhand
Ranchi is also among those cities of India from where people often used to go Delhi, Mumbai, Vellore, and Chennai for better treatment, advanced and critical surgeries. Lack of advanced medical facilities there are the number of critical cases are being transferred daily from Ranchi to Delhi and for other states hospitals. A critical patient needs intensive care facility and proper care throughout the journey, although Air Ambulance from Ranchi is often utilized for transporting emergency and critical cases. As we all know no medical transport could be faster than Air Ambulance, that's why cost of Air Ambulance Services in Ranchi is very high even rising gradually due to huge demand and need for this lifesaving medical transport services.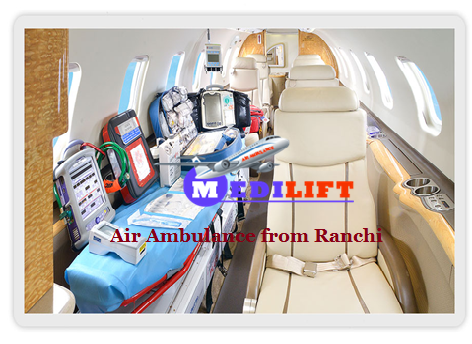 Number of emergency medical transport service provider in the market is also increasing due to demand of this service MEDILIFT is also among those service provider which is now available in Ranchi. Medilift is a leading service provider of both Air and Train Ambulances it provides worldwide services to help people in their critical emergency days. It provide best and reliable  services with complete medical facility which make you enable to shift any critical case with ease from Ranchi to anywhere in India.
Let's take a glance of services and medical facilities which make Medilift Air Ambulance in Ranchi different and advanced from other service provider:
»We provide full I.C.U setup and latest machines to transform commercial airplane into hi-tech Air Ambulance.
»We provide well experienced medical team and specialized doctor with patient to control and monitor patient condition throughout journey.
»We also provide medical escort team to assist patient who need this service
»We also provide all hi-tech medical equipment's, commercial stretchers and wheel chair for needy patients.
»We also provide ground ambulance services to pick and drop patient direct from hospital bed to airport and airport to hospital bed.
In short Medilift provides complete bed to bed transfer facility without charging huge money, YES this leading and fastest growing service provider is not only known to provide best, quick and reliable services but also known to provide affordable Air Ambulance Services from Ranchi. Medilift prime goal is to help you not to earn money from you, so feel free to contact with us if you ever need our services Medilift  Air Ambulance from Ranchi to Delhi, Air Ambulance from Ranchi to Chennai, Mumbai and for other cities where you want to move your patient, out services will always available for 24X7 to help you.