Medilift Reliable and an Affordable Air Ambulance Service in Bangalore is Available Now
Bangalore the capital city of Karnataka is known and popular in all over India for its versatile facilities, this multifunctional cites is known and popular for its quality education and advanced medical facilities. Yes, you will not believe that most of cardiac patients from all over India are usually transferred in Bangalore hospitals. Apart from cardiac, Bangalore hospital's has almost all solution and advanced medical facilities which can deal with other critical disease.
Medilift provides an emergency and very affordable Air Ambulance Service in Bangalore to shift critically ill patients in Bangalore and from Bangalore to another city of India. There is an ultimate use and demand of Air Ambulance in Bangalore; in fact, air ambulance services are utilizing word wide to shift emergency patients from one city to another city. Medilift provides low cost air ambulance from Bangalore, in fact, Medilift both charter and commercial Air Ambulance Services are available in Bangalore and it's both flights are always ready to fly anytime from Bangalore.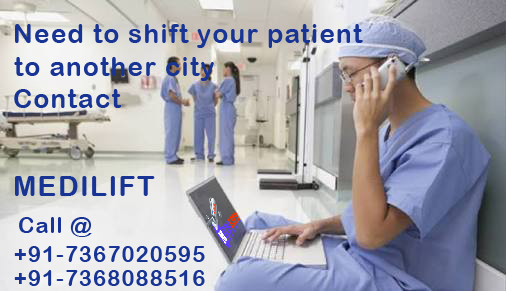 The Advanced Air and Train Ambulance Services in Bangalore
Medilift provides full I.C.U facility, along with all advanced life to support medical facilities and hi-tech equipments to properly monitor and control patient condition during transportation. It safely transport patient with specialized medical team and doctor that properly monitor and control patient every single monitor condition during transportation. So if you ever need an emergency and low cost Air Ambulance from Bangalore to Delhi, Mumbai, Vellore then feel free to contact with Medilift air and train ambulance services anytime to get and avail Medilift air ambulance services in Bangalore in order to safely transport your loved one from one city to another city in a hassle free way.
Save