Air and Train Ambulance Services in Nagpur in petty cost
Nagpur is, as the winter capital and the third largest city of Maharashtra, India. There is 92% literacy rate in this urban city and one of the most prosperous and smart cities of this State. This city is important for Armed forces and other forces and the education hub of the centralized India having the literacy rate 93%. Ram temple is famous for the lord Rama at Ramtek in Nagpur.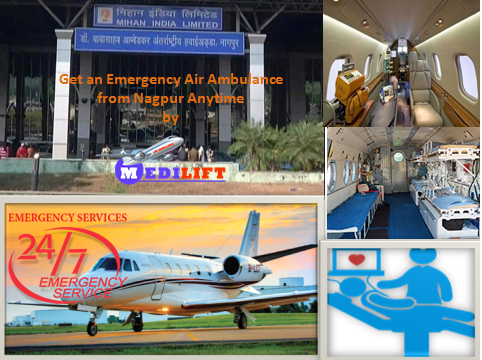 Medilift is the namesake of Air and Train Ambulance Services in Nagpur; is providing the best level ICU and emergency services to the very serious patients to the designated cities under the sharp supervision of its medical team in the whole trip by Air Ambulance Services. It is providing its services with very small cost and regular and quality based services. As it is prepared and vigilant round the clock on mobile, website and lots up reachable points for booking and shifting the patients by hook or crook.
Our air ambulance services from Nagpur to Delhi, Chennai, Mumbai, Kolkata, Bangalore, Patna, Pune at low cost with medical team.
Get Benefit of Hi-tech and Reliable Air Ambulance Service in Nagpur by Medilift
Medilift provides 24X7 an emergency Air Ambulance Service from Nagpur to shift patient within and beyond India. Medilift both charter and commercial Air Ambulance from Nagpur is always ready to take off in an emergency, another best things is that cost of Air Ambulance from Nagpur to Delhi, Mumbai, Chennai, Vellore by Medilift is still very affordable and this service will be always less expensive than other Air Ambulance in Nagpur.
So if you ever need Air Ambulance Services from Nagpur in future to shift your patient anywhere in India then feel free to contact us anytime to avail our affordable services.