Get Best Air & Train Ambulance services in Darbhanga
Darbhanga is the 5th largest city and the second largest medical hub of Bihar. Darbhanga Railway station is one of the oldest Railway Head in Northern Bihar. The nearest Airport in this city is Darbhanga Airport and it is the longest runway airport of Bihar.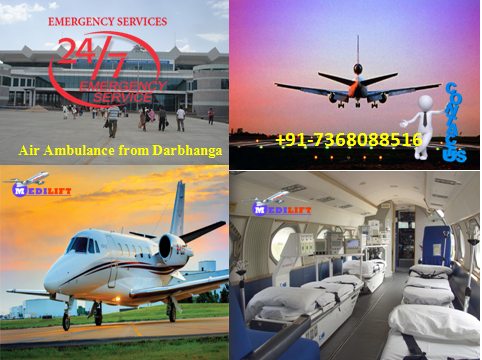 Medilift is air and train ambulance service provider company from Darbhanga which has maximum quality based services to the serious and unmovable patients by Air Ambulance Services or Train Ambulance Services with the procured manner. It is standing at Darbhanga for the critical patients those who want to get treatment out side from Bihar to other cities such as: Delhi, Mumbai, Vellore etc. It provides the best services keeping a nominal cost, full ICU set up and well-equipped equipment with bed to bed services under the vigilance of experienced M.D. doctors and well-guided paramedical technician. Its service is available to the patients 24*7 and anytime.
Get Medilift Air Ambulance Service in Darbhanga Anytime to Shift Patient Anywhere in India
Medilift provides 24×7 an emergency Air Ambulance Service in Darbhanga to shift patient anywhere in India. Cost of Air Ambulance from Darbhanga to Delhi by Medilift is still very affordable than other Air Ambulance Services. Another best thing is that Medilift provides complete I.C.U facility, latest equipments and specialized doctor with patient in order to safely transport patient from one city to another city. It provides complete bed to bed transfer facility without charging huge money, there is no hidden cost for commercial stretchers, wheel chair, and medical escort team and ground ambulance services. Such facilities are pre-included in our services. So must avail our Air Ambulance Services in Darbhanga and safely shift your patient anywhere in India without any hassle.