Medilift Rail Ambulance from Raipur – A Great Life Saving Medical Transport Facility in Raipur
If you ever need to shift your patient from Raipur to anywhere in India such as Delhi, Mumbai, Vellore, Chennai then must contact with Medilift to get low cost Rail Ambulance from Raipur. Medilift is a leading and fastest growing air and train ambulance service provider of India which has been recently globalized its services.
Train Ambulance from Raipur by Medilift is ready to provide its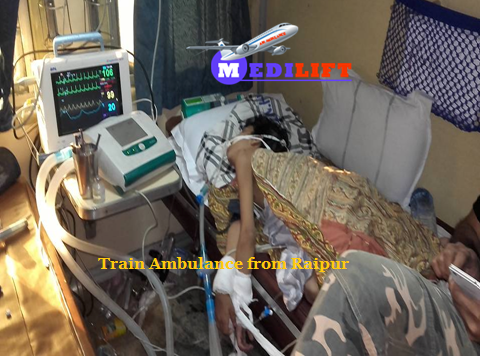 best services and advanced medical facility for you. Medilift is specialized in this filed it provide best and advanced for its patient, on  the other hand Train Ambulance from Raipur To Delhi and Medilift other Train Ambulances are considered as best and complete intensive care solution for patient transportation.  You will get all kinds of hi-tech medical facilities and arrangement in its train ambulances from Raipur. Medilfit provides low cost services with full advanced facilities and world class services that's why this leading brand is also recommended by those people who have availed Medilfit Train Ambulance Services.
Key facilities and salient Services of Medilift Train Ambulance from Raipur
»Provide experienced medical team and specialized doctor with patient
» Always transfer patient in super fast trains
» Transform 1st and 2nd AC train compartment into advance Train Ambulance
» Easily and safely transfer critical medical case to new born baby
» Provide full I.C.U system and Semi I.C.U facility for conscious patients
» Provides all kinds of hi-tech machines and latest medical equipment's
So don't waste your money in booking advanced rail ambulance to get such facilities to your loved one. Medilift Train Ambulance from Raipur and other Train Ambulances are available now at reasonable price. Although Train Ambulance from Raipur Cost is high but Medilift Services will be always available at affordable fare. If you want to shift your patient in Air Ambulance then Visit- Medilift Air Ambulance in Raipur
Save
Save