Medilift Rail Ambulance from Patna – Get High Quality Train Ambulance in Patna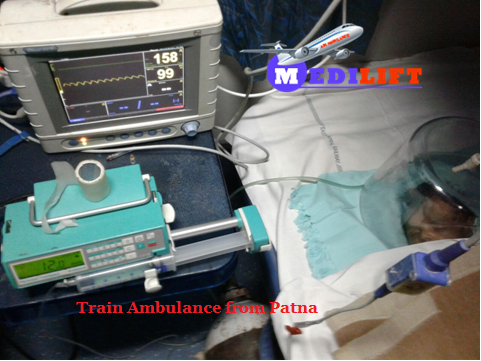 Patna the capital city of Bihar and counted in one of the metropolis of eastern India, this largest city is developing very fast and there are almost every facilities are available in this city apart from Medical Facility. Although Patna has I.G.I.M.S, PMCH, NMCH and AIIMS is also now in Patna but still emergency medical cases is being transferring to Delhi, Chennai and Vellore from Patna daily. We also feel such drawback and lack of medical facilities, unfortunately we are helpless. That's why number of patients move to another city for better treatment for this people need and demand for Rail Ambulance from Patna to Delhi and for other cities such as Chennai, Vellore, Mumbai  and Kolkata.
However there are unlimited Train Ambulances are available in Patna but people demands for advanced and well medically equipped Train Ambulance from Patna. Well you may end your search with Medilift as its good news for Patna because a leading air and train ambulance service provider are available in your home city. Medilift Train Ambulance from Patna to Delhi is one stop intensive care medical transport that will connect you with advance world of Train Ambulance Services.
Services of Medilift Train Ambulance from Patna
»Transfer patient in super fast train
»Provide best medical teams and I.C.U specialist doctor
»Provide all kinds of essential equipment's and medical facility to transfer stable and unconscious patients.
»Provide hi-tech machines, I.C.U equipment's and life support facilities
»Provide specialized doctor to monitor and control patient condition throughout journey.
»Provide bed to hospital and hospital to bed transfer facility
»Also provide ground ambulance to drop and receive patient direct from hospital and residential area.
Our services are not only reliable and advanced but also we provide affordable Train Ambulance from Patna to Chennai and for other cities. So get ready to avail advantage of India's best and quick Train Ambulance Services from Patna by Medilift.  So must contact with us if you ever need to transfer your patient from Patna to anywhere in India. Medilift Air Ambulance in Patna is also available for fastest mode of transportation to other Cities in India.
Save