Medilift Rail Ambulance from Mumbai – Select Best Train Ambulance for Your Loved One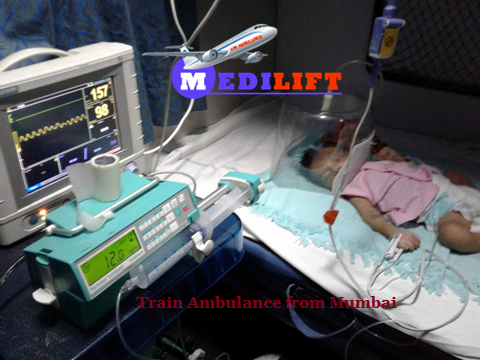 Demand of Train Ambulance Services in India is being increasing every day, as this service is less expensive, fast and packed with all kinds of medical facilities. Medilift Train Ambulance from Mumbai is counted in one of the best and fastest growing service provider of India. Medilift teams are specialized in patient transportation they easily transfer highly severe patient with ease by providing all kinds of medical facilities. It provides both facilities I.C.U and semi I.C.U it means it doesn't matter whether your patient is stable, unconscious, either in support of oxygen and ventilator.
We provide all required medical facilities and hi-tech machines in our emergency medical transport as per patient condition need and demand. Medilift not only provide best service but also our services are quick and affordable because in field of providing medical transport from Mumbai to Pune or anywhere time is most important factor.
Why our train ambulance services are considers as best emergency medical transport?

»When you will avail and use our services then you will notice number of different factors and services that you will never expect in such affordable and reasonable cost.
»Medilift arrange tickets in super fast trains that easily cover miles gap within few hours.
»We provide ticket in 1st AC and 2nd AC that packed with all kinds of medical facilities
»We provide I.C.U specialist doctor with patient throughout journey.
»Medical team and even medical escorts were also present in rail ambulance to assist patients.
»We also provide road ambulance from hospital to railway station and next city railway station to direct hospital.
Our bed to bed transportation services are still less expensive, economical and advanced than others. So if you ever need Train Ambulance from Mumbai to Pune, Rail Ambulance from Mumbai to Ahmadabad, either Train Ambulance from Mumbai to Chennai, Patna, Ranchi, New Delhi, Guwahati and other Cities then must contact with Medilift to get best services for your loved one. So don't worry about train ambulance cost because our service will be always less expensive but advanced than others.
Save