Medilift Rail Ambulance from Kolkata – One Stop Emergency Medical Transport in Eastern India  
Now Medilift Rail Ambulance from Kolkata is ready to serve its services and transfer patient from Kolkata to other states and cities of India. Medilift is a leading and well known Air and Train Ambulance Service provider of India which is only known and popular among thousands of Indians only by dint of its reliable and quality services. There is a huge demand and use of Train Ambulance from Kolkata to shift emergency patient in another city hospital for better treatment.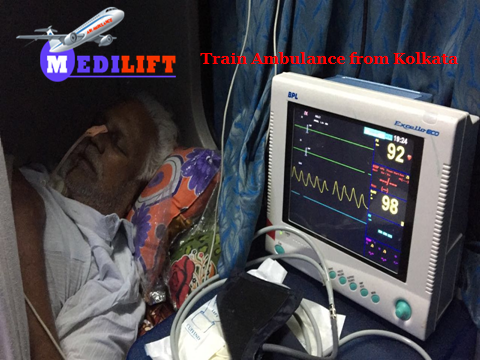 Medilift Train Ambulance from Kolkata to Chennai is in demand because it provides unexpected facilities and advanced services beyond people expectations. One of the best things Medilift is that cost of Train Ambulance from Kolkata to Chennai is less expensive than other service provider. We are expert in transfer critical patient, new born baby, other severe patients, it doesn't matter whether your patient is in I.C.U, conscious either stable on oxygen. We easily and safely transfer such patient by providing appropriate and best suitable life support as per patient need and requirement.
On the other hand Medilift provides all kinds of advanced medical facilities, hi-tech equipment's and all basic and advanced life support facilities in its rail ambulance. Train Ambulance from Kolkata to Delhi by Medilift is also available with same medical facilities and services. We transfer patient in super fast trains of 1st and 2nd AC compartment. Although advanced and hi-tech train ambulance cost ate raising gradually but Medilift Train Ambulance from Kolkata and Medilift other emergency medical transport services cost will be always less expensive and affordable. So must avail our services as Medilift will connect you to the best and advanced train ambulance, along with advanced and hi-tech medical facilities.
Save
Save