Medilift Rail Ambulance from Jamshedpur – An Intensive Care Medical Transport in Jamshedpur
Now Medilift Rail Ambulance from Jamshedpur is available to transfer your patient easily and safely from one city to another city. If you have ever heard about Medilift air and train ambulance services then there is no need to explain more out about our services and other facilities associated with patient transportation.
Medilift Train Ambulance from Jamshedpur is not only a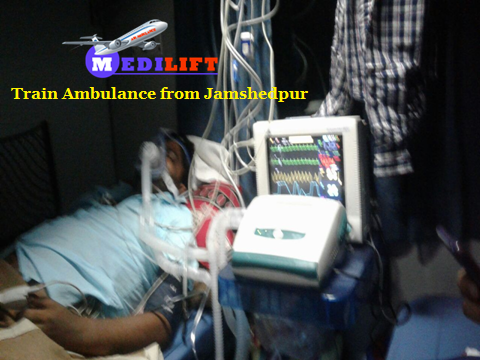 medical transport service but also it is way and solutions that may you enable to transfer your critical and highly severe patient with ease. Emergency patient transportation from one city to another city is tough tasks as such patient need same medical facilities and huge care throughout journey. A single mistake and lack of equipments may prove dangerous for patients.
But Medilift can easily handle such patients by providing all kinds of medical facilities, I.C.U set-up and hi-tech medical equipment's. We transfer patient with proper medical care and under guidance of I.C.U Specialist Doctor. Basically we have both facilities I.C.U and Semi I.C.U it means you can easily transfer conscious and critical patient via Train Ambulance from Jamshedpur to Delhi by Medilift. We provide best and reliable services within a short span of time, so must contact if you ever need to shift your patient from Jamshedpur to anywhere in India. Our Train Ambulance from Jamshedpur to Chennai, Mumbai and for cities will be always available for you at very affordable rate.
Save
Save