Medilift Rail Ambulance from Guwahati – Best and Affordable Medical Transport in Guwahati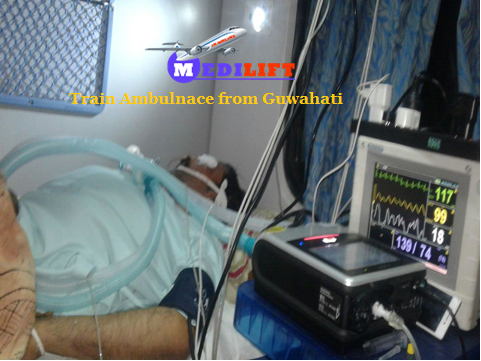 To cope with increasing case of medical cases, emergency medical situation and need of patient transportation from one city to another city Train Ambulances are being used for this very purpose. Although there are number of emergency medical transport services are available in India but mostly people prefer to go with Train Ambulance after ground ambulance. Demand of Train Ambulance Services in India has been increased due to huge demand and need of patient transportation. Medilift Rail Ambulance from Guwahati is also available with full medical facilities and world class services.
Medilfit is a leading air and train ambulance service provider of north India that provides worldwide services. Train Ambulance from Guwahati to Delhi cost is very high but when you will contact with us then you will get not only low cost train ambulance from Guwahati but also we will connect you with advanced medical transport service at affordable rate.
Medilift is expert in this field, our technicians, doctors and other staffs are well experienced and they easily handle all kinds of issues associated with patient transportation. We provide complete hospital to bed and bed to hospital transfer facility. Train Ambulance from Guwahati to Delhi will pack with all kinds of hi-tech medical equipment's and advanced facilities to safely transfer your patient. We are able to transfer new born baby to critical medical case, so don't worry about our service and medical facilities because you will get more beyond your expectation.
Save
Save
Save