Medilift Train Ambulance from Dibrugarh – Best Medical Transport Service in Dibrugarh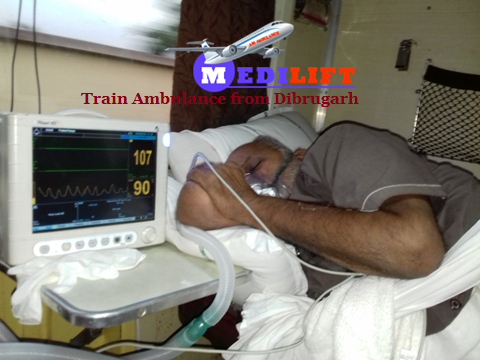 Whenever medical emergency occur in life we start finding best, suitable and quick solution to overcome existing issues. In most of emergency medical cases we have to move our patients from our hometown to another city hospital for advanced medical care, critical surgery and better treatment. In such situation we need fast and well medically equipped emergency transport services that easily and safely transfer our patient from one city to another city. We also look for trustworthy service providers companies to get best medical transport for our loved one.
If you are in Dibrugarh or anywhere in India and need Train Ambulance from Dibrugarh then you may contact with Medilift Air and Train Ambulance Services which is available in all over India. Medilift is a well known, popular and leading service provider of emergency medical transport services. Its Rail Ambulance from Dibrugarh will be packed with all kinds of hi-tech and advanced medical facilities. One of the best things with Medilift Train Ambulance Services from Dibrugarh to Delhi is that it comes with affordable rate also there is no need to pay additional money for wheel chair, commercial stretchers and ground ambulance services.
Medilift provides all these reliable and comfortable services at low cost, while other hand it transfer patient with proper medical care and under guidance of I.C.U specialist doctor and experienced medical team. Medilift services and its advanced medical facility will make you easy and enable to transfer highly severe patients to new born child with ease. So must contact once at Medilift to get best, quick and reliable Train Ambulance from Dibrugarh to Chennai in order to shift your patient via advanced medical transportation services.
Cost of train ambulance Dibrugarh to New Delhi Chennai Vellore Mumbai Bangalore – Starts from 55000-60000/- and it totally depends upon the distance and patient condition.
Save