Medilift Rail Ambulance from Bangalore – Get Your Own Train Ambulance in Low Cost
Are you in Bangalore? Do you need Rail Ambulance from Bangalore? Do you know any train ambulance service provider in Bangalore? Are you looking for best and low cost Train Ambulance from Bangalore? Well if your answer is YES, then you may end your search here because we are going to connect you with world class and advanced Train Ambulance from Bangalore that will easily and safely transfer your patient at your desire city within few hours.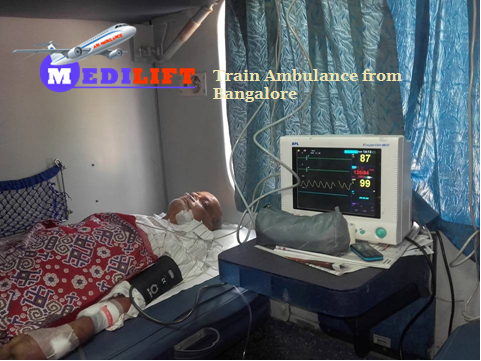 We at (www.medilift.in) or Medilift are a leading emergency service provider of Air and Train Ambulances in all over India. We provide best and reliable services without charging huge amount, our Train Ambulance from Bangalore to Chennai and for other cities where you want to move your patients are packed with advanced life support medical facilities.
Medilift is going to introduce you with India's best medically equipped Train Ambulance from Bangalore that will connect you to almost all cities of India, such as Hyderabad, Delhi, Kolkata, Chennai etc.
List of Medical facilities and salient services of Medilift
»Book ticket in super fast train that cover miles gap in few hours
»Able to transfer new born baby to critical patient
»Provide all kinds of hi-tech medical equipment's such as Oxygen Cylinder, Infusion Pump, Cardiac Monitor and many other I.C.U equipment's will be available there.
»We also provide best and specialized doctor with patient that monitor patient every minute patient condition throughout journey.
»We provide complete bed to bed transfer facility, for this we also provide both side our ground ambulance to pick and drop patient direct to the hospital bed.
You will not get such outstanding transport facility in reasonable cost, Train Ambulance cost from Bangalore is very high but our services are still affordable and less expensive than others.  So must contact with Medilift if you also need Train Ambulance from Bangalore to Hyderabad or Train Ambulance from Bangalore to Delhi in future to move your patient. Our reliable services and facilities will be always available for you.
Save