Medilift Air and Train Ambulance is Now at Bangalore
Bangalore now known as Bengaluru is the capital city of Karnataka. It is one of the Tier I cities in India. As such it has every facility starting from education to medical centers. But still, you cannot ignore the necessity of transferring the emergency patient to other medical centers outside the city or country. Thus air ambulance service providers are very essential. As such like many other air ambulance service providers, Medilift air and train ambulance service have also started its service in Bangalore. Though there are many air ambulance services in Bangalore but the best and the No. 1 air ambulance service provider is Medilift. It is a Delhi based company and it has been in No. 1 position in Bangalore since its inception. It has only one motive that is to help people at the time of medical emergency.
The Advanced Air and Train Ambulance Services in Bangalore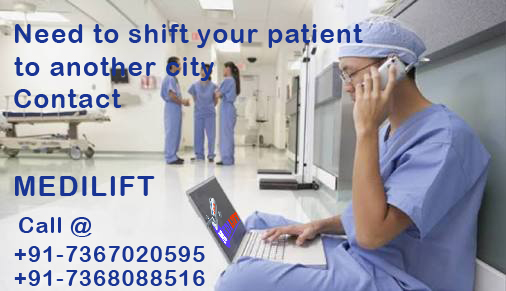 We feel proud whenever we can save the life of any person. Sometimes it becomes utmost important to shift the critical patient to any other location very urgently where the patient can be treated well. At that point of time air ambulance becomes very essential. The needy patients can also avail the benefit of Medilift advanced train ambulance services in Bangalore city.But as the air ambulance services are very costly they cannot be availed by the common people and due to which many middle-class people have to die without proper treatment. This difficulty has been removed by Medilift as they kept their service so low that even the common people can avail our service and save the life of the patient. Medilift remains open all the time and provides service 24 x 7.
Get an Emergency Air Ambulance from Bangalore Anytime by Medilift
Medilift provides best and well medically equipped Air Ambulance from Bangalore in order to safely transport critically ill patients from Bangalore anywhere in India. We provide the complete hassle free solution to shift an I.C.U and an emergency from one city to another city, our experienced medical team and other non-technical staffs are well experienced in the patient transportation field. While another hand we transfer patient with I.C.U specialist doctor that not only analyze patient condition but also monitor and control every single minute condition during transportation.
We provide complete A to Z solution associated with patient transportation in the same package are both Air and Train Ambulance Services are very affordable and always available in an emergency. Thus if you ever need Air Ambulance Service in Bangalore then must contact us anytime in order to avail our services and safely shift your loved one anywhere in India without paying huge money.